I Tried, Portland. I Really Tried.
July 3rd, 2016 to July 6th, 2016
You cat-fished me really fucking hard, Portland.
Seriously, I really wanted to like you. So did my brother, Harrison, who was my travel buddy this go around. We both heard wonderful things about PDX. Some said I would fit right in, and others were asking Harrison not if but when he was moving to Portland. Friends continuously reiterated the accolades for easy public transportation, a passion for environmentalism, and people who are uniquely "Portland." So, we didn't think it possible to not like it.
However, Portland brought out a new level of asshole from me. I began more sentences with "I'm sorry, but…" than I care to admit. I think it's now reflex when I refer to Portland. The second it's mentioned, my face scrunches to an angry, confused expression, and I'm shooting back something along the lines of, "I'm sorry, but I don't get the hype. It's a city of try-hards."
My first fit of confusion came from the state of the streets. I mean, if the goal were to make the whole city a compost site, then Portland, you're killing it. I'd also shut my mouth about it, and let you on your merry pollution-ridden way. But something tells me a city so proud of their green infrastructure isn't brimming with joy over trash-lined streets. Apparently, the street is as good of a place as any to dispose of well, anything. And to be completely honest, I was more impressed to see places without litter. I felt like someone might as well have taken a ripped bag of trash and skipped down the streets like a Derelict Oprah. You get some trash, and you get some trash. Everybody gets the trash!
The trash's only rival for ubiquity was the homeless. I had to be conscious stepping over makeshift shelters, skirting shantytowns, and readying to empty my pockets. It seemed like in some areas they were even building mini-colonies. I like to think it's a new breed of hipster, one that is forging the path to an obscure, much cooler Portland. You know, living and breathing the city where street and life intersect. "Streetlife," if you will. Or homelessness, but semantics.
Also, I'd like to give a very special shout-out to Google Maps for consistently finding the sketchiest and dirtiest path to walk. I wouldn't have been hip to Portland Streetlife™ without you. I could have tried Apple Maps, but then again I still have self-respect.
To be clear, I wanted the city to be everything I'd heard. That accessible place, with a love for the environment wholeheartedly supported by those who could only be from Portland. Sadly, that just wasn't my or my brother's experience. It took my brother and I constantly poking reminders into our string of "I'm sorry, buts," in order to enjoy the gems. Often we would stop and say, "oh, I actually like this part of the city," in order to distinguish between what was contrived and what was rare.
Coming away from the trip, I think Portland has potential to be an amazing city. But presently, I'm left with the feeling their infrastructure is struggling to accommodate the impressive growth. It also seems the development leaves Portlanders resentful and indignant to those visiting. I've never met people who are simultaneously more proud to be from a city, and hostile to share a city. When we'd ask locals about Portland it's like they're all in teen angst. I can only describe it as that feeling when you're thirteen. Your parents say something funny, and you laugh despite yourself. But then quickly remember your pubescent agony, and the indifference switch is flipped back on.
With all of that said, Harrison and I did have a good time. We weren't stomping around growing angrier with every fixie we saw. We can have fun anywhere, and Portland wasn't an exception. So, along with some cherished inside jokes, there were places that caused us to pause and say, "oh, I actually like this part of the city, I'd go here again." You know, if I was forced to visit again.
My dear, dear Pok Pok. We were nursing a fairly bad hangover when we came for lunch here. But this is a great place for hair of the dog, and we couldn't resist the Lao Saparot. It's this strangely sweet, but smooth rice whiskey. The Chicken Khao Soi was sweeter than expected, too, but surprisingly creamy. And the hand-pulled noodles were fabulous with the broth. The drinking vinegar is like drinking a slightly tart soda, with a hint of the designated flavor. It's not what you would expect.
What We Ate: Chicken Khao Soi, Pok Pok Special
What We Drank: Tamarind Drinking Vinegar, Lao Saparot (shot)
I've since visited Pok Pok NY in Brooklyn, too. Here we had Ike's Vietnamese Fish Sauce Wings, and they really do live up to the hype.
What We Ate: Ike's Vietnamese Fish Sauce Wings, Laap Muu Khua Phrae, Phat Hoi Laai Samun Phrai
What We Drank: Thai Basil Drinking Vinegar, Cha Yen
Oh man. Based on my trips to Gourdough's and Voodoo Doughnuts in Austin, I didn't think I was a donut person. But these brioche beauts informed me that, yes, I very much am. Or I only like these donuts. Harrison and I stuffed our faces so unabashedly that when we walked by the shop again, a man half-jokingly said, "Are you going back? That's brutal."
Shout out to the guy working the counter. He slipped us an extra Blueberry Basil Bourbon. He did us a solid.
What (Didn't) We Eat: Orange Olive Oil Fennel, Blueberry Basil Bourbon (2x), Maple Bacon, Key Lime and Meyer Lemon Custard
This was our last dinner in Portland. I have to admit we picked this place for the sole purpose of wanting a simple meal. But simple doesn't mean cheap, and this place was worth it. It's Northern Italian food, serving classic dishes. That's it. Not only that the wait staff was incredible. They were helpful with suggestions, and slightly pushed us to the Ben Ryé for a dessert wine. Since Portland, I have been looking for this wine in every store.
While Harrison waited for the Uber, I even went back to the hostess to snag the wine's name. Instead, she went back and gave me a taster to "make sure it was the right one." Thanks for the extra taste, my lovely Nostrana friend.
What We Ate: Insalata Mista, Radiatori al Ragu, Gnocchi Alla Romana, Oregon Berry Crisp with Almond Cream
What We Drank: Ben Ryé
I'm unashamed we went to Ruby Jewel Scoops everyday. Clearly it was good. However, I think our daily trips gave us a laugh more than anything. As for the ice cream, I liked how they had classics like vanilla bean, espresso and strawberry, but fun, seasonal flavors were offered as well. Coffee ice cream is my favorite hands down (and if you add oreos to that, I'm fucking sold). So, I was especially thrilled with the caramelized coffee ice cream with chocolate cookies as a special flavor of the month. Out of the 6 flavors I tried, it was the winner. A close second was their Amaretto ice cream with cherries, which was completely Harrison's jam.
On our 3rd trip we convinced the ice cream scoopers to not just sing, but belt, Katy Perry's Firework, whilst dancing and ice cream-scooping. You do you, Portland ice cream scoopers. You put on quite a show.
What We Ate: Caramelized Coffee with Chocolate Cookies, Amaretto with Cherries, Apple Pie, Vanilla Bean, Strawberry, and Espresso
Sushi Mazi knows their crowd. They're located across from a headshop and offer strange, but surprisingly good combinations (even for those in unaltered states of mind). I recommend getting the Real Grasshopper Sushi, which is a huge, crunchy grasshopper on rice, tied down with a little strip of nori. It's strangely light, and reminded me of tempura. The Pop Rock Roll was mediocre, but it was nostalgic choosing between green apple and wild berry rocks for the topping. And finally, the Sake Black Sesame. It's salmon sashimi with olive oil, black sesame, salt, pepper and chili flakes. It comes with wasabi honey dressing, but I'd skip it. The fish doesn't need it.
What We Ate: Real Grasshopper Sushi, Pop Rock Roll with Green Apple Rocks, Sake Black Sesame
What We Drank: Sapporo
This might feel like any bookstore for some people, but Powell's stretches an entire block in downtown Portland. We spent nearly two hours browsing, and I saw less than half the store. The selection of books was unreal, and Harrison and I discussed ordering books from here to support the store.
What I Read: Nature Writing by John Muir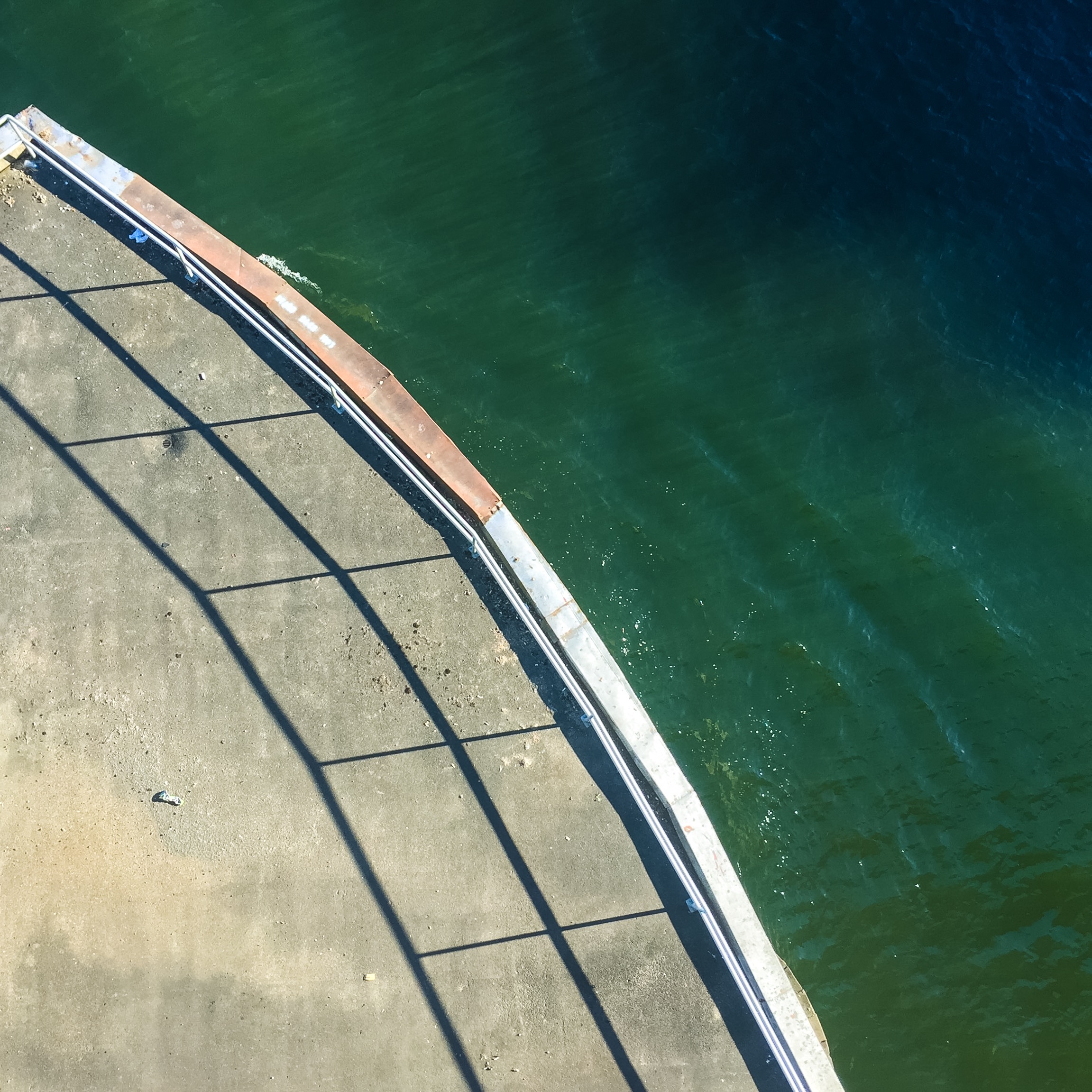 Deschutes Brewery actually started in Bend, Oregon, and in 2008 opened their location in Portland. It's one of the largest craft breweries in the nation. And from what I can tell, most of what they produce is delicious. I went with one of their two classics, The Mirror Pond Pale Ale, but I'm sure the Black Butte Porter is tasty, too. For the food, I would stay away from the small bites, they aren't worth the money. However, their Brewery Pretzel was great, we devoured that thing quickly.
Great Conversation: The restaurant and bar were absolutely packed. So, we shared a table with a woman sitting near the bar. She was eating alone, and casually scrolling through Instagram. She said she had been waiting for her burger over an hour, and was nervous about missing her flight. We went through all the niceties of small talk, but then spoke more in depth about her. She is from Alaska and part of the Inupait Tribe, who is connected to the Inuit people. She started talking about her duties within the tribe. As a little girl, she would throw stones into the water to corral salmon into fishing nets. Then graduated to cleaning the fish, and eventually curing the fish as it dried. Previously, she spent months of her time ensuring her family would be fed, and then she sat worried for a burger. Just different worlds.
What We Ate: Sweet Fire Cheese, Brewery Pretzel
What We Drank: Mirror Pond Pale Ale, Obsidian Stout Nitro
The space itself is interesting. It's this big, beautiful open room, with maybe 3 or 4 long tables. So you're invited in, but not for a long stay. The decoration is severe, and the baristas aren't there to talk. This is a great place to go if you want good coffee or espresso, but don't want to be bothered. It's an introverts dream.
I'd go again, but they took for-fucking-ever. The barista might as well have roasted every individual bean before brewing our coffee.
What We Drank: Black Coffee, the Kilenso, Ethiopia Brew
One of our Uber drivers told us Gravy was his favorite breakfast place in Portland. He was one of the best people we met in PDX, so we thought to oblige his suggestion. It's that place you need after drinking for 3 days straight. A good, filling, and simple breakfast. If you're willing to beat the crowd, go a little early. It was completely worth it, we were seated right away.
What We Ate: Make Your Own Omelet (egg whites, sun-dried tomato, spinach, feta), Smoked Salmon Hash & Eggs