Auf Wiedersehen, Austin
Everyday, it's a-gettin' closer // goin' faster than a roller coaster
I like to think of myself as a collector.
My friends and movies are sources with endless little tidbits, quotes, sayings, voice inflections even, that I tend to endearingly call back when I'm in social settings. I don't find that unusual; I think people relate and maintain connections through references.
Take Arrested Development. My brother and I have been lucky enough to make dozens, DOZENS, of memories despite our geographic distance. And in the absence of seeing each other, our relationship's fallback is GOB gifs.
So it's no surprise when I began thinking about my goodbye to Austin that I kept circling to this idea of we are the sum of our experiences. And although I agree, I couldn't help but to, again, harbor mine and my friend's adventures in warm concurrence.
And I admit that as I've been pulling my roots from this city, my friends have dug deeper. With each tick of the calendar I have one day less, and they have one day more. Yet instead of checking out, it's nudged me to hold on a little tighter to what they perceive as mundane. I've come to recognize the banality as the strings that pull together their unique lives.
For me, people breathe life into Austin. When I think of this city it brings to mind my friends, acquaintances, or more generally, the people. So I'd like to acquaint you with My Austin, or more specifically, the people that call this city their home.
I've asked Austinites to bring me into their world, so instead of running through the what to do's and where to go's, I've combined my friend's direct quotes about Austin to describe a perfect day.
Perfection
People don't live in Austin to work; they work to live in Austin
Austin is a city that lends itself to spontaneity. Most of the best times start unplanned. Recently there was a day filled with quintessential seasonal firsts. I didn't intend to play hooky from work that day, but I began walking to Whole Foods to snag some breakfast tacos, and that perfect early spring weather was overwhelmingly distracting. It beckoned me to go play.
So tacos in tow, I let that distraction lead me to my first paddleboard session of the season.
Honestly, though, I think a hundred others must have had the same idea, because the lake was speckled with paddlers, kayakers, and rowers. And I was amazed and proud at the others taking a break from life to enjoy the perfect day.
As I strapped to my board, I glanced again at those around me, and I had this funny thought. Austin is like parliament. There's a representative from everywhere. Frat bros, hipsters, entrepreneurs, nudist colony enthusiasts, starving musicians, renowned chefs, middle aged corporate sheeple, policymakers, grease monkeys, refugees. I don't know why, but everyone flocks to the city, and I loved the prominent display of inherent exposure.
This idea trailed me as I made my way over to the bridge to watch Austinites scuttle up the support beams only to fling themselves off to join the floating crowd beneath. I joined the fellow adventurers, and welcomed the chilly water's reprieve from what had become the blazing sun.
I made it back to the dock a solid hour and half later than expected; I was soaking wet, sun-kissed and sore, but 100% content. And instead of calling it a day, I coaxed some friends to grab Zilker picnic food from P. Terry's.
Instead of going through the drive-thru we ordered our double cheeseburger meals at the stand, poking the staff for an extra, extra amount of Terry Sauce. Satisfied and slightly embarrassed by the amount and sheer weight of the greasy bag, we made our way to Zilker Park. We pulled an old comforter out of a friend's trunk and plopped down closest to the most dogs so to sneak a few doggy cuddles into our day, regardless of how the owners felt.
The evening was nearing, and full from our burgers, we still had enough energy to make it out for some live music. So E. 6th it was.
We made our way to White Horse. And to put it in a friend of mine's words, "White Horse looks like something straight out of a Tarantino movie." In other words, the shitty old piano sitting in the hall going to the patio, the smelly beer stained counter-tops, and the excellent music and dancing make it a place where everyone throws their inhibitions to the wind, and they drop their fronts. People are genuine.
So after a night started by Bluegrass, two-stepping, and ironic Texas beer, the last spot for the night was 24 Diner. It's one of the few late night eats that's more than a greasy spoon diner. They satisfy the health nut with their gluten-dairy-lactose-fun-free foods, all the way to what you really go for, the chicken and waffles. And only after I'd drug my last golden bite through remains of warm, amber syrup, I went home, appreciating that I live in the melting pot of Texas.
Contributors: Kathryn Kalman, Julie Craig, Michael Wharton, Mike T, TdWy, Anton, Gabby and Nick, Alex Byers, Chris Daughters, Logan M., Bekah, and to all my friends who made Austin a special place to call home.
Magic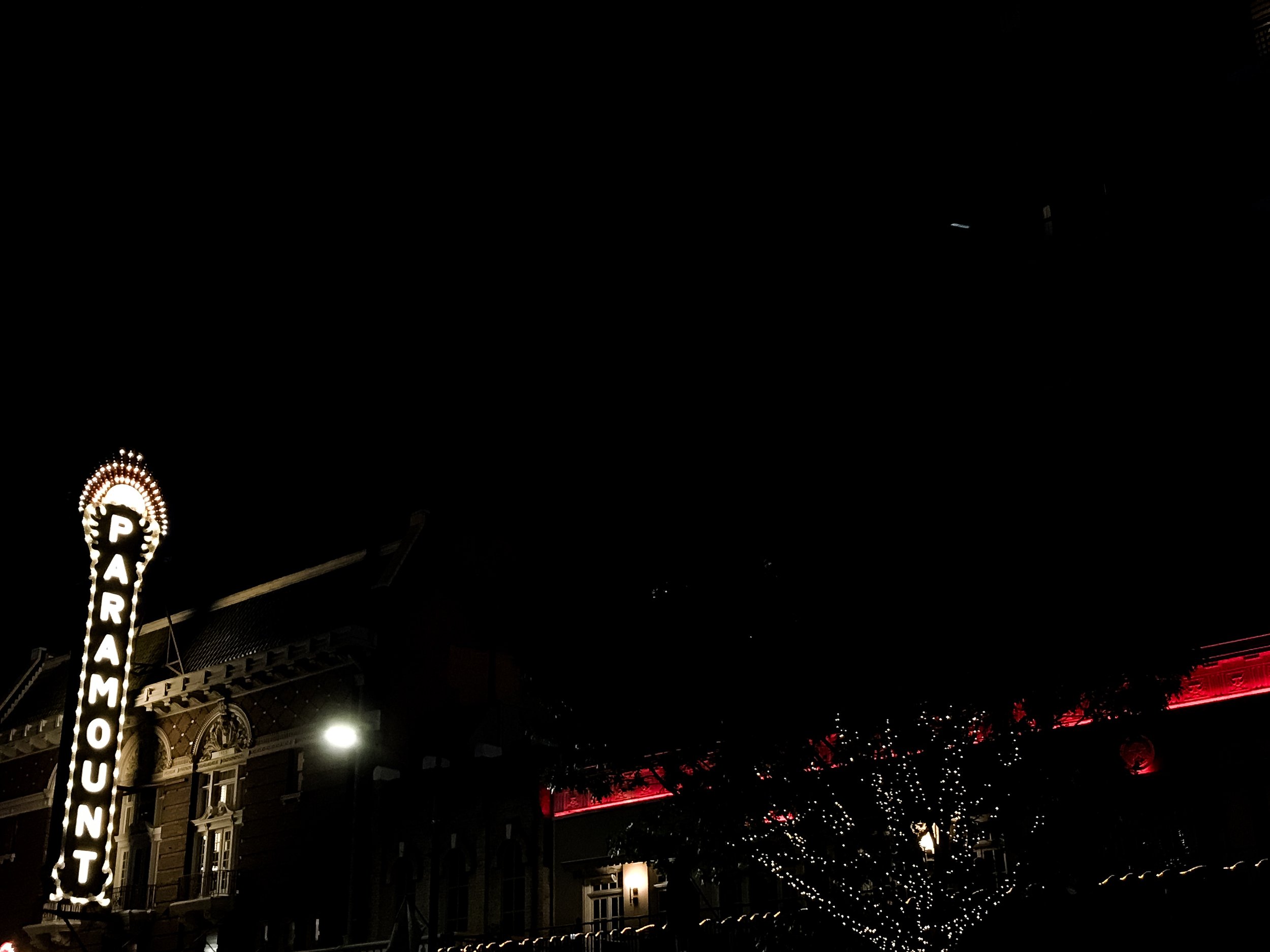 There's a freedom you begin to feel the closer you get to Austin, Texas
I was on vacation [in Austin] with some friends. I convinced one of those friends to move with me to Austin that year. He was an amazing guitarist, outstanding vocalist, and just had it. But I knew Austin would challenge him.
On the trip he was itching for like 3 days to play music, and our chance came later. We went out to a friend's house in the Hill Country to just have some good home cooked BBQ, drink good beer, and be with good friends. We were sharing songs, some people jumping in on tunes, but when he finally played, all of us – together – witnessed every piece of that man's soul.
He abruptly passed away 2 months after our return home. But he was electric that night. I'll never forget it or him.
Contributor: Mike T.
Not to demean any of the other experiences I've had in Austin because honestly, they've all been wonderful. But my first night in Austin I went to auditorium shores, sat on the grass, and marveled at the lake and the city. I realized that moving to Austin was the biggest thing I've done to improve my life. I realized that that I moved for myself. Not for a job. Not for anyone or anything else.
I remember that night vividly, probably more so than most anything else. I posted a picture that night with the caption Austin. I live in you now.
I've only proven how important that decision was since then.
Contributor: Alex Byers
Who you are is what you settle for, you know?
You know what line has always stuck with me? That one from Django where Dr. Schultz says something about Auf Wiedersehen.
Shultz: Mister Candie, normally I would say Auf wiedersehen but since what auf wiedersehen actually means is till I see you again, and since I never wish to see you again to you, sir, I say goodbye!
This little line flits through my memory when someone begins reminding me that this is the last time… I'll do whatever it is we are doing. And as true as that is, I believe with every last, there's a first waiting to be embraced.
Besides, I couldn't possibly think that of Austin, not my Austin. So with the fullest sincerity, till I see you again, Austin.
Eat | Drink | Play